Midlothian & East Lothian Food & Drink Awards 2022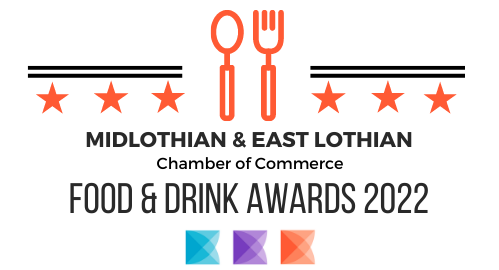 Open to food and drink businesses in East Lothian and Midlothian, it is the only awards event in the regions created to support and boost local producers and suppliers, chefs, restaurants, pubs and hoteliers, and people who care about the countryside and the future of our local environment.
There are 9 categories to be won:
Best Eatery
Restaurant of the Year
Pub / Bistro of the Year
Excellence in Customer Service
Local Producer of the Year
Most Innovative New Product
Best Takeaway
Excellence in Catering and Events
Sustainability Award
You can enter multiple categories and entry is FREE and straight forward via completion of a short entry form. For awards criteria and nomination form please click HERE.
Winners will be announced at the Food and Drinks Awards Ceremony and Dinner on Thursday 6th October at Eskmills Venue, Musselburgh.
What next…
If you're considering entering your business in this year's Midlothian Food and Drink Awards then fcheck out the following info on
Awards Categories & Entry Form
Sponsorship
We have sponsorship opportunities available. Please contact Dita Macfarlane by email: dita@thebusinesspartnership.org.uk or call 0131 603 5040