News & Blog
News stories from the Chamber and related news are listed in the table below
Hot reception for top curry restaurant's outdoor re-launch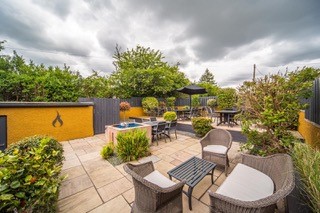 Things are hotting up at Scotland's curry restaurant of the year which has set a 7 July date for serving its first customers since the Coronavirus lockdown.
In preparation for the re-opening of outdoor restaurants in Scotland, Radhuni at Loanhead on the outskirts of Edinburgh installed a huge clear glass fibre canopy above its renovated garden, The Sanctuary, to help it continue serving customers even if it rains.
Its hopes of a quick return were dashed last week when First Minister Nicola Sturgeon unexpectedly declined to name an opening date. However, yesterday she announced outdoor restaurants could open from 6 July.
Radhuni, named best restaurant in Scotland at last November's British Curry Awards in London, is closed on Mondays but will re-open on Tuesday 7 July.
"Our customers have given this news a really hot reception," said Managing Partner Habibur Khan. "We've been taking loads of bookings from curry fans all over the Central Belt because the Government's five mile travel limit will be lifted from 3 July."
To adhere to social distancing rules a maximum of six tables will be served at any one time with tight hygiene restrictions in force. A one way system will be in operation, with customers entering by the front door and leaving at the rear of the garden.
Mr Khan added: "While we were disappointed at the delay we need to keep customers safe and that remains our central objective. Curry lovers will just have to be patient a little while longer."
Bookings will be online only via theraduni.co.uk, with sittings six days a week from 12 noon to 2 pm, 5-7 pm, 7-9 pm and 9-11 pm, and adequate gaps between to allow table changes and check-out.
Staff will wear gloves and masks, sanitiser stations will be provided, and tilted parasols between tables will offer additional protection.
Like other hospitality establishments in Scotland Radhuni will re-open its multi award-winning indoor restaurant on 15 July.