Midlothian & East Lothian Business Awards Ceremony and Dinner 2022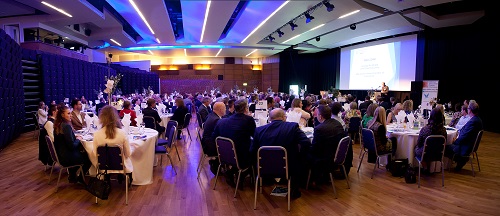 Join finalists and local business at the Midlothian & East Lothian Business Awards ceremony and dinner on Wednesday 30th March October 2022 at the Brunton, where we will recognise and celebrate the achievements of Midlothian & East Lothian businesses. The winners of the 10 categories will be revealed and be presented with their awards.
The evening will start at 4.30pm for drink reception, networking and business exhibition. Dinner and Award Ceremony will commence from 6.30pm and the event is brought to a close by 9.30pm.
Guest speaker at this year's Awards is Professor Linda Bauld OBE, the Bruce and John Usher Chair in Public Health in the Usher Institute, College of Medicine at the University of Edinburgh and Chief Social Policy Adviser to the Scottish Government. For the past 25 years Linda has led a range of studies to prevent or treat the main modifiable risk factors for Non Communicable Diseases including cancer, diabetes and respiratory and cardiovascular diseases with a particular focus on tobacco, alcohol, diet and inequalities in health. She has also been involved in research on Covid-19, in particular examining asymptomatic testing and behavioural responses to public health guidelines.
With around 300 guests expected to attend, the dinner provides a fantastic platform to raise your profile and network with some of the most influential business leaders in the area. So, come along to the awards ceremony, enjoy the exhibition, and network with potential contacts over dinner!
Individual Ticket: £53 + VAT (*to include a pre-dinner drinks, a 2-course meal, a glass of wine / soft drinks with dinner and tea / coffee)
A table of 8: £424 + VAT
Exhibition Space: £150 + VAT (*to include 1 place at dinner) - Contact Mia on 0131 603 5040
Event details
Event Title
Midlothian & East Lothian Business Awards Ceremony and Dinner 2022
Event Date
30th March 2022
Event Time
16:30 - 21:30
Event Location
Brunton Hall, Brunton Hall, Ladywell Way, Musselburgh
Event Postcode
EH21 6AA
Event Price
£53.00 ex VAT (members) and £53.00 ex VAT (non-members)


* equates to £63.60 inc. VAT* (members) / £63.60 inc. VAT* (non-members)